Nineteenth Street, N.W.
by Brett Wood. Vanguard Press (2008).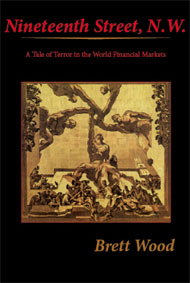 Nineteenth Street, N.W. is the first novel of international economist Brett Wood. Despite what you might be thinking about economists right now, this is a great book. Wood presents a believable scenario of economic terrorism without getting too bogged down in the economics of it.
All the characters are likable and believable, even the terrorists. The novel is largely told from the viewpoint of Sophia, the mastermind of the terrorist plot. Wood humanizes her by showing us her fear and guilt even as she is plotting a global disaster. I found myself hoping the plan would be foiled at the same time I was hoping she wouldn't get caught.
Rarely do I plow through a 300+ page book in two days, but I never wanted to put this one down. I've read several first novels this year, and this is by far the best. Wood is already working on his second novel, and I'll be on the lookout for it.